ART SCHOOL FRIENDS LAUNCH NATURE-INSPIRED WALLPAPER
May 04 2018 – Kellie Menendez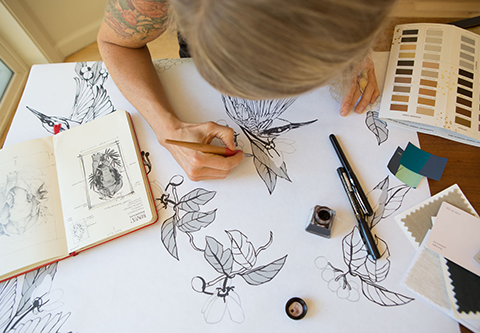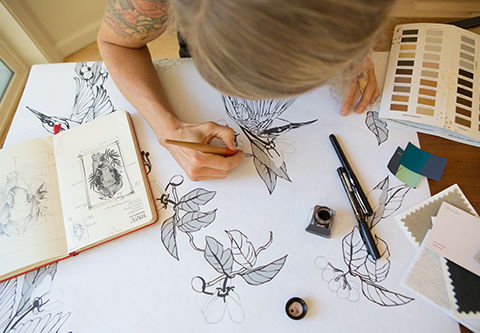 RUE DAILY / DECORATING / MAY 4, 2018 by 
Kat McEachern
A love of nature was the basis of Kellie Menendez and Ondrea Vicklund's friendship during their time in art school. So, with a passion for nature and a background in fine art and illustration, it was only natural that the pair decided to launch Half Full, a design studio that creates home décor inspired by nature, starting with a collection of three wallpaper lines. 

Each pattern is hand drawn or painted by Kellie and Ondrea and produced entirely in the United States. From Wild which showcases the animals most commonly found in nature – deer owls, mice, hummingbirds, kingfishers, and foxes – to those animals most at risk, including black spider monkeys, black robins, rhinos, and tigers, in Endangered, we get the full span of the animal kingdom. And in Elements, the pair present a more abstract series of nature-inspired textures like feathers, scales, leaves, and waves. "Today, so much décor is mass-produced and commoditized," says Menendez. "We started Half Full to provide an alternative because we believe that living spaces should feel personal and reflect our individual stories.

(Kingfisher Wallpaper Install, Noelle Becker Design)

(Franz Wallpaper Install) 
See the full feature here.